Working closely with the client's business needs, Tracy Law's business legal services include, but are not limited to, the formation of legal entities, the drafting and negotiating of a variety of legal documents, including, partnership, shareholder, operating, employment and buy-sell agreements. Guidance with business law needs, whether selling, purchasing, creating a business or preparing contractual documents helps ensure the transaction is structured properly from the beginning. By addressing these issues while entering into transactions, costly mistakes are often times avoided.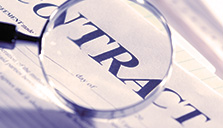 Being experienced in many large, medium and smaller business deals and understanding the benefits and/or detriments of contractual obligations, Tracy Law ensures that each client knows the terms of the agreement at hand and is making an educated decision. This ensures that the client understands the business choices and can accept the risk or negotiate proper safe-guards.
Additionally, Tracy Law provides assistance with Florida contractual law. When negotiating contracts, Tracy Law can assist with contract review services to explain your contractual rights and obligations. If a custom contract is required, Tracy Law can provide you with Florida contractual drafting services to suit your needs, in addition to helping draft amendments or revisions to existing contracts.
Florida attorney Aaron J. Tracy founded Tracy Law, P.A., striving to provide quality legal services that are cost effective and practical to clients' needs. Legal Services are provided with individual care and attention to address each client's concerns. Tracy Law primarily concentrates in corporate law, not-for-profit law,business law, contractual law, estate planning, probate, and estate and trust administration. Additionally, Tracy Law addresses various other matters related to the core concentration, including potential tax-related matters.