Through providing knowledgeable guidance and support, clients achieve and understand their estate plan of choice while setting forth their desires and goals. Individual attention is given to each client to ensure results are not only implemented but also achieved, while also addressing tax and other potential considerations. Documents are carefully drafted to achieve the desired results in addition to considering other aspects that may taint an estate plan.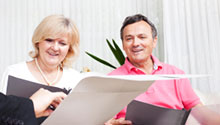 Tracy Law strives to ensure the client truly understands his or her estate plan in order to provide comfort with the plan and the future. Focus is directed towards designing estate plans that provide both protection and flexibility in fulfillment of the client's desired plan. Striving to ensure you are given individual attention rather than feeling like another number on a list is especially important to ensure the client receives the best service.
In connection with creating and implementing a desired estate plan, preserving wealth for families and their loved ones is an important priority for many clients. Services are provided to protect income and assets from judgments and garnishments. With proper estate planning, income and certain assets may be protected from issues that may arise.
Many Plans are created with the following documents in addition to other creative or miscellaneous documents:
Wills
Living Wills
Durable Powers of Attorney
Designation of Health Care Surrogate
Revocable Living Trusts
Irrevocable Trusts
Charitable Legacy endeavors
Family Limited Partnerships
Entity selection and formation